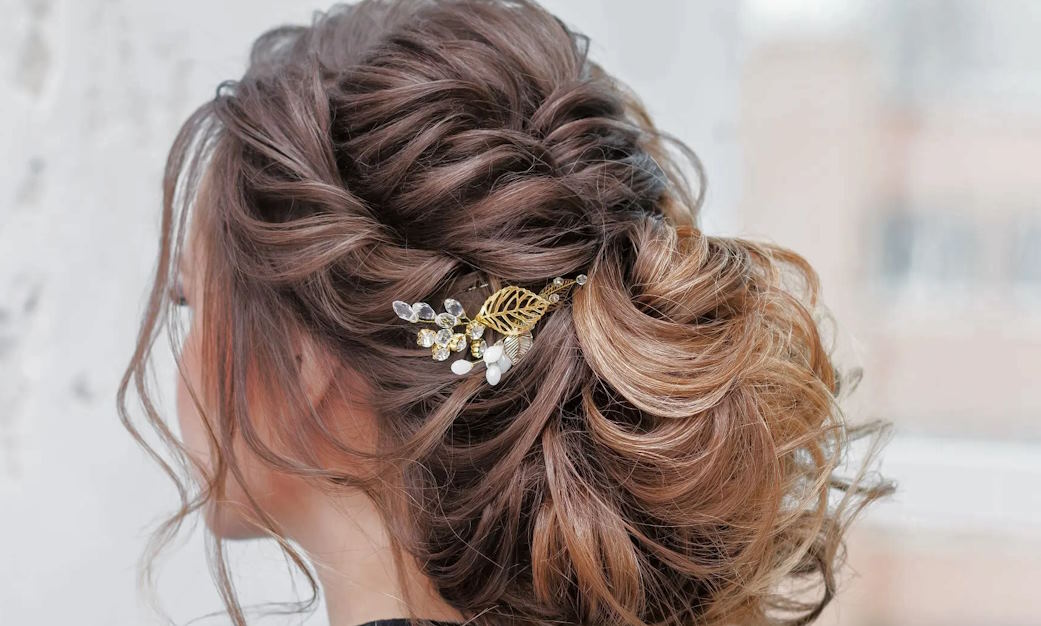 Bridal Hairstyles with Hair Extensions: Adding Length and Volume
When it comes to their wedding day, brides want everything to be perfect, from the dress to the makeup and, of course, the hairstyle. For many brides, achieving the desired length and volume for their dream hairstyle may seem like a challenge, especially if their natural hair falls short. This is where hair extensions come to the rescue, offering a solution that adds both length and volume to create stunning bridal hairstyles.
Choosing the Right Hair Extensions for Bridal Hairstyles
A wedding day is undoubtedly one of the most special and memorable occasions in a person's life, and every bride wants to look her best. When it comes to achieving the perfect bridal hairstyle, hair extensions can be a game-changer. They offer the ability to add length and volume to hair, creating a breathtaking look that enhances any chosen style. However, selecting the right hair extensions requires careful consideration. Here are some essential factors to keep in mind when choosing the perfect extensions for your bridal hairstyle.
First and foremost, consider the bride's natural hair type and texture. Hair extensions come in various textures, such as straight, wavy, or curly, to seamlessly blend with different hair types. Matching the extension's texture to the bride's natural hair ensures a cohesive and natural-looking result.
Next, discuss the desired length and volume with the bride. Determine how much additional length and fullness she wants to achieve. This will help in selecting the appropriate length and weight of the hair extensions to create the desired effect. Whether it's subtle volume or dramatic length, understanding the bride's vision is crucial in finding the perfect extensions.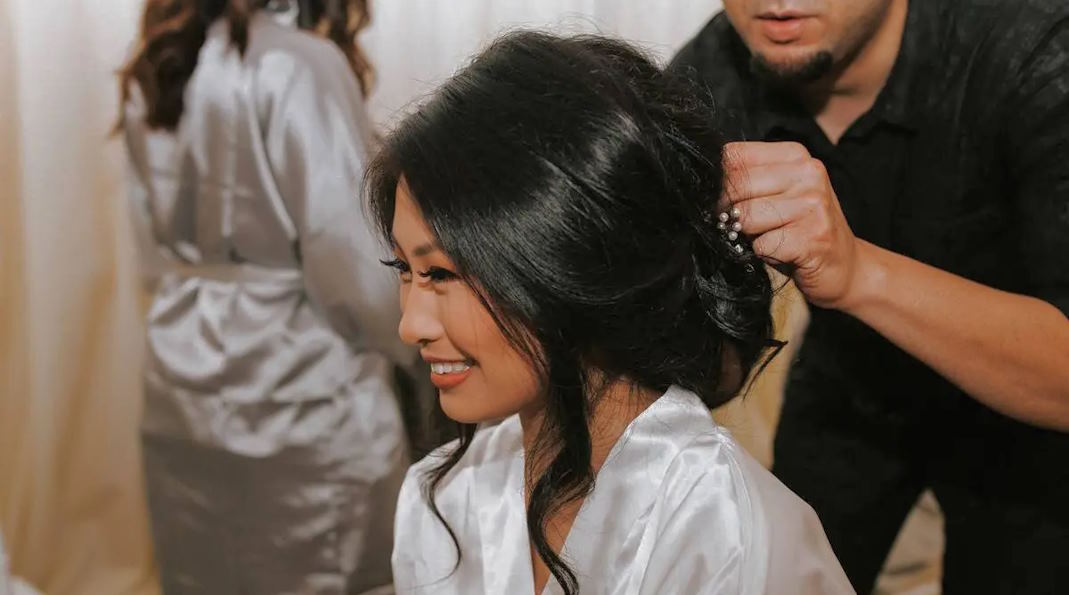 Consultation with a professional hairstylist is essential during the selection process. A skilled stylist can provide valuable guidance and recommendations based on the bride's hair type, desired style, and the extensions' compatibility. They can assess the feasibility of certain hairstyles and suggest suitable extension types and application methods to achieve the desired look.
When selecting hair extensions, consider the quality of the hair itself. Opting for high-quality extensions ensures durability, a natural appearance, and ease of styling. Remy human hair extensions are often preferred as they maintain their natural cuticle direction, resulting in soft, smooth, and tangle-free hair.
Color matching is another crucial aspect to consider. The extensions should seamlessly blend with the bride's natural hair color to create a cohesive and natural-looking result. It is advisable to match the extensions to the ends of the bride's hair or consider a professional colorist's expertise to achieve a perfect blend.
The length and weight of the extensions play a significant role in the overall comfort and balance of the hairstyle. It is important to choose extensions that are not excessively heavy or too long, as they may cause strain on the natural hair and discomfort for the bride.
Lastly, consider the attachment method of the hair extensions. Different techniques, such as clip-ins, tape-ins, micro beads, fusion, or sew-in extensions, offer varying degrees of durability and ease of application. Discuss the options with the hairstylist to find the best attachment method that suits the bride's preferences and the desired hairstyle.
Bridal Hairstyles with Hair Extensions
On your wedding day, your hairstyle is as important as the dress you wear. It has the power to transform your entire look and make you feel like the most beautiful bride. If you're looking to add length and volume to your hair, hair extensions can be the secret ingredient to achieving your dream bridal hairstyle. Let's explore some stunning hairstyles that can be achieved with the help of hair extensions.
Updo Hairstyles:
For an elegant and timeless look, consider a classic bun with added volume and length. Hair extensions can provide the necessary fullness to create a voluminous and sophisticated bun that will turn heads as you walk down the aisle. Alternatively, opt for a messy updo with loose curls. This romantic style can be enhanced with extensions, adding texture and dimension for a soft and effortless look. If you're a bride who loves intricate detailing, a braided updo with extensions can create a stunning and ethereal hairstyle. Extensions can be woven into the braids, adding length and thickness, resulting in a beautifully textured and captivating updo.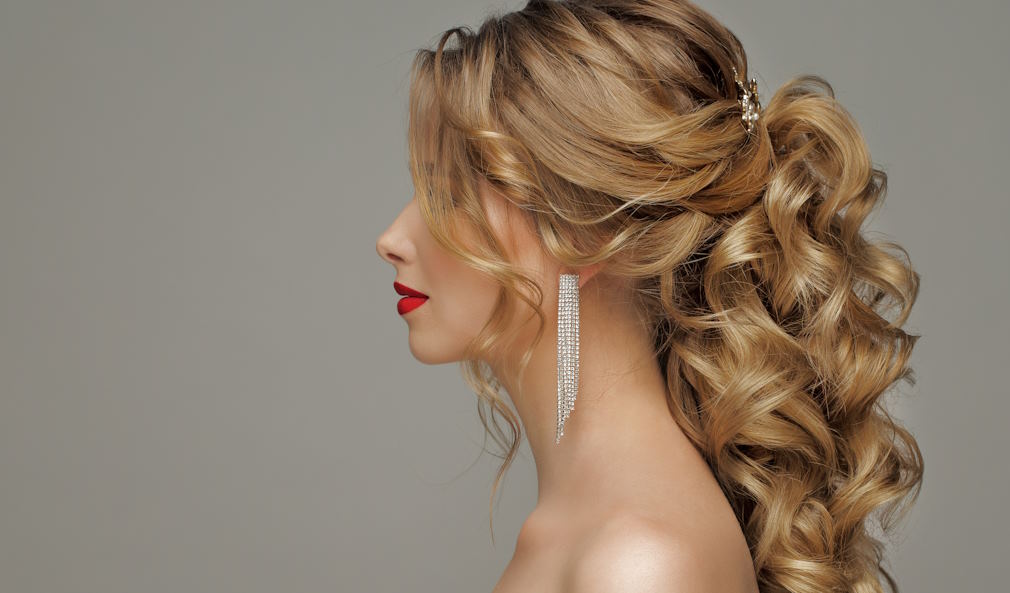 Half-Up, Half-Down Hairstyles:
If you want to showcase both the beauty of your hair and the added length and volume from extensions, half-up, half-down hairstyles are perfect. Create voluminous waves with extensions for a glamorous and red-carpet-worthy look. The extensions will give your waves extra body and bounce, making your hairstyle even more captivating. Another option is a half-up bun with extensions for added fullness. This trendy and chic style combines a top knot with flowing locks, achieving a balanced and effortless look. For a more intricate half-up style, try a twisted hairstyle with lengthened locks. Extensions can be incorporated into the twists, creating an intricate and romantic hairstyle that will make you feel like a princess.
Down Hairstyles:
If you prefer to let your hair down on your wedding day, hair extensions can elevate your natural locks to new heights. Create long, flowing curls with extensions for a mesmerizing and glamorous look. The extensions will enhance the length and create a cascading effect that exudes elegance. For a beachy and carefree vibe, opt for beachy waves with added volume. Extensions can give your hair the necessary thickness and texture, achieving those effortlessly tousled waves. If you desire sleek and straight hair but lack the length, extensions can provide the solution. Enjoy the elegance of straight and shiny locks that fall gracefully on your shoulders, creating a timeless and sophisticated bridal look.