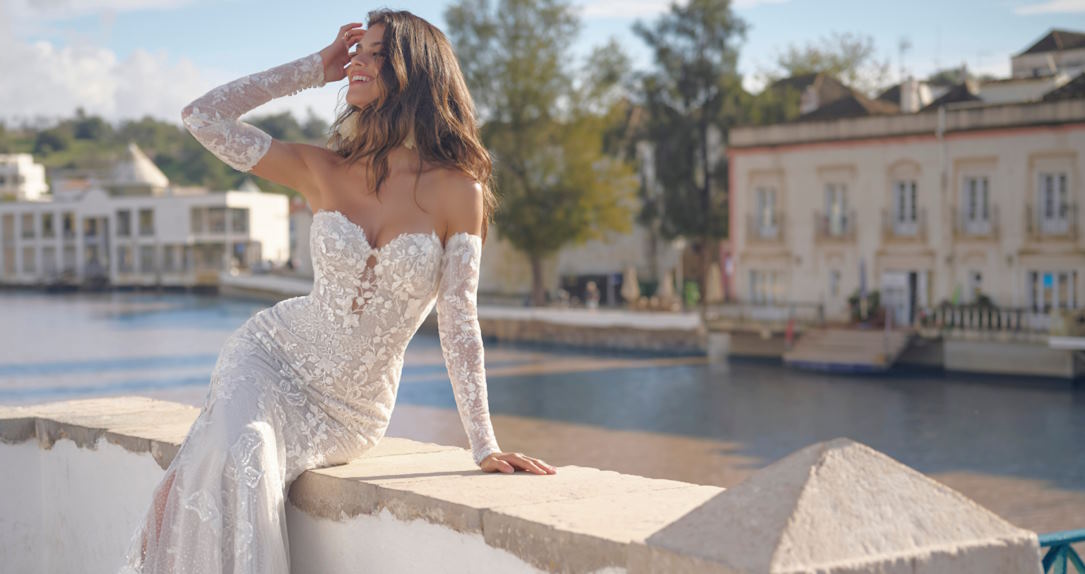 Chic and Simple Wedding Hairstyles for Minimalist Brides
As the wedding industry continues to evolve, the minimalist trend has emerged as a favorite among modern brides. With its emphasis on simplicity, clean lines, and understated elegance, the minimalist approach has transformed the way we perceive weddings. When it comes to wedding hairstyles, minimalist brides seek chic and simple looks that complement their overall aesthetic.
Classic and Timeless Updos for Minimalist Brides
For minimalist brides who appreciate clean lines and a sophisticated look, classic updos are a perfect choice. These hairstyles exude timeless elegance while maintaining a chic simplicity that aligns perfectly with the minimalist aesthetic. Here are some classic updo options that will elevate your wedding day style to new heights.
Sleek Low Bun with a Middle Part:
The sleek low bun with a middle part is the epitome of refined elegance. This hairstyle creates a sleek and polished look by gathering the hair at the nape of the neck and securing it in a low bun. The middle part adds a touch of symmetry and sophistication, accentuating your facial features and allowing your natural beauty to shine through. This classic updo pairs well with minimalist wedding gowns and is suitable for both indoor and outdoor weddings.
Elegant Chignon with a Twist:
The elegant chignon with a twist is a timeless hairstyle that exudes grace and sophistication. This updo is achieved by twisting the hair and pinning it into a low bun at the back of the head. The result is a sleek and structured look that complements minimalist bridal ensembles beautifully. This hairstyle works well with various hair textures and lengths, making it a versatile choice for brides with different hair types.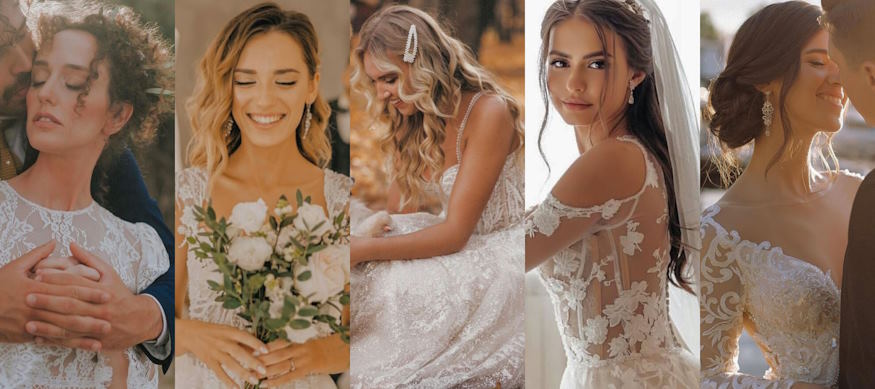 Effortlessly Loose Hairstyles for Minimalist Brides
While classic updos have their charm, some minimalist brides prefer a more relaxed and effortless look for their wedding day. Effortlessly loose hairstyles offer a touch of natural beauty and a sense of ease that perfectly aligns with the minimalist aesthetic. Here are some stunning options to consider when seeking a chic and simple loose hairstyle.
Loose Waves with a Deep Side Part:
Loose waves with a deep side part exude a sense of effortless elegance. This hairstyle achieves soft and natural-looking waves that cascade gently down your shoulders. The deep side part adds a touch of asymmetry and complements the minimalist style with its understated allure. It's a versatile choice that suits various hair lengths and can be adorned with minimalist hair accessories, such as delicate pins or clips, to enhance the overall look.
Romantic Half-Up Half-Down Hairstyle with a Twist:
For a romantic and relaxed vibe, consider a half-up half-down hairstyle with a twist. This look combines the beauty of loose, flowing locks with a subtle element of sophistication. Gather a section of hair from each side and twist them towards the back of the head, securing them together with a delicate hair accessory. The remaining loose waves or curls cascade down, creating a soft and romantic effect that complements minimalist bridal ensembles effortlessly.
Textured Bob with Natural Movement:
If you have a bob haircut or shorter hair, don't worry—there are stylish options for you too. Embrace the beauty of a textured bob with natural movement. This hairstyle highlights the simplicity and elegance of your short hair while adding texture and volume. Enhance the natural movement by applying a texturizing spray or using a curling iron to create soft waves. The result is a chic and effortless look that beautifully suits minimalist brides seeking a shorter hairstyle.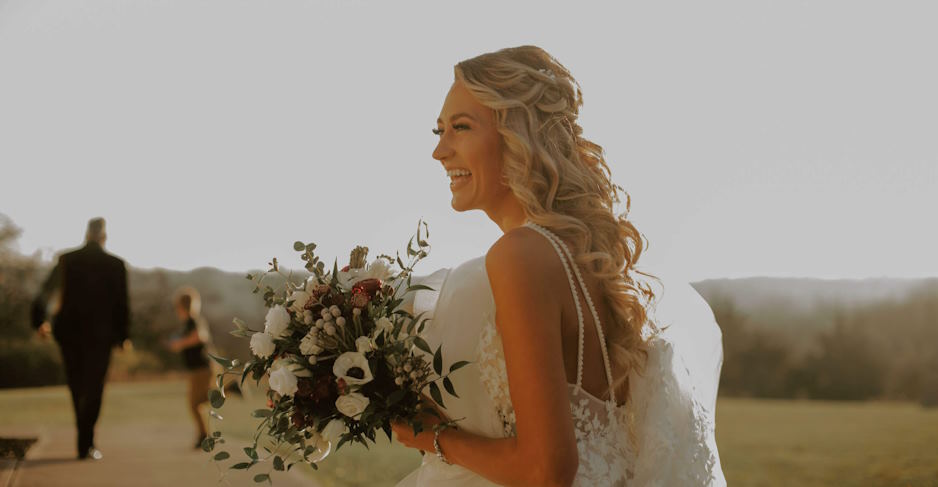 Accessorizing Chic and Simple Hairstyles
Adding the right accessories to your chic and simple wedding hairstyle can elevate your look and add that extra touch of elegance and personality. When it comes to accessorizing minimalist hairstyles, less is often more. Here are some options to consider that perfectly complement your chic and simple wedding hairstyle.
Minimalist Hair Accessories, such as Delicate Pins or Clips:
Minimalist hair accessories, such as delicate pins or clips, are perfect for adding a subtle and refined touch to your hairstyle. Opt for sleek and minimalistic designs that enhance your overall look without overpowering it. Delicate hairpins with small pearls or crystals can be strategically placed to secure loose strands or add a touch of sparkle. Simple metal clips can also be used to hold back sections of hair while maintaining a clean and polished appearance. These accessories effortlessly enhance the minimalist aesthetic and provide a touch of individuality.
Fresh Flowers or Greenery for a Natural Touch:
For a fresh and natural look, consider incorporating fresh flowers or greenery into your chic and simple hairstyle. Choose blooms or foliage that complement your wedding color palette and theme. Gently tuck a few blossoms into a loose braid, or weave greenery into a textured updo. The organic beauty of flowers or greenery adds a touch of nature and romance to your hairstyle, perfectly aligning with the minimalist bride's desire for simplicity and elegance.
Subtle Bridal Veils or Headbands for Added Elegance:
If you're looking to enhance your minimalist hairstyle with a touch of elegance, consider subtle bridal veils or headbands. Opt for veils with clean lines and minimal adornments that allow your hairstyle to take center stage. A delicate birdcage veil or a simple tulle veil can add a sense of timeless beauty. Alternatively, a slim headband with a touch of sparkle or a dainty metal band can provide a subtle accent while maintaining a chic and simple look. These accessories effortlessly elevate your hairstyle and add a touch of sophistication.